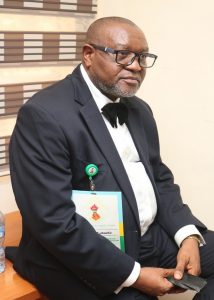 I welcome you to the School of Postgraduate Studies (SPGS), National Open University of Nigeria (NOUN).
As Nigeria's leading and only specialist-provider of Open and Distance Learning (ODL) university education, we offer academic freedom by providing functional, flexible and cost-effective learning which adds life-long value to all those who seek knowledge within a stone throw. This means that access is not limited by space and time, and you could proceed at your pace.
At the resuscitation of the University in 2003, NOUN had some postgraduate programmes as part of its total programme offerings. However, it was not until 6th April, 2009, that the University's Senate formalised the establishment of the School of Postgraduate Studies with Prof. Israel F. Adu as the pioneer Dean.
The SPGS superintends over all postgraduate programmes in the University on behalf of the Senate and the Vice Chancellor. It's governed by a Board chaired by the Dean of the School, with all Deans of Faculties and Directors of Academic Units as members. The Secretary of the Board is Deputy Registrar and the Administrative Secretary of the School.
Read more
To enable it carryout its mandates as well as the directives of the Senate, the Vice Chancellor and the Board of the School, the School of Postgraduate Studies is made up of 5 Units, namely:
Board Matters
Records
Admissions (PGD and Masters)
D. Matters
Special Duties
National Secretariat of the Committee of Provosts and Deans of Postgraduate Colleges and Schools (CPDPGCS)
Whether you are pursuing a Postgraduate Diploma, Masters or Doctoral degree or a professional certificate, our University is known and dedicated to providing highly improved standards and qualitative programmes to both local and international clients (students). As an institution that is irrevocably committed to quality, all our programmes are approved by the apex regulator in the industry, the National Universities Commission (NUC). Thus, applicants, students, employers of labour, parents and guardians, and professional bodies are rest assured that our graduates and alumni have been subjected to the rigour expected of a world-class academic institution and have cultivated the right skills set to compete favourably with their pairs in the global labour market.
NOUN offers postgraduate programmes in seven (7) out of the University's eight (8) Faculties as well as the African Centre for Technology Enhanced Learning (ACETEL).
One of the unique characteristics of the NOUN is that, with the exception of PhD programmes, you guaranteed instant provisional admission upon application and meeting the minimum academic requirements. With over 100 Study Centres across the country and robust learner support services, students and potential applicants are assured of high quality engagement and a wonderful learning experience.
Thank you.
Prof. Chiedu F. MAFIANA, fppsn, fzsn
Dean, School of Postgraduate Studies
Vision
To strive at achieving excellence in scholarship, research, consultancies, upgrading the professional skills/competencies of graduands and enhancing knowledge development underpinned by the principles of Open and Distance Learning.
Mission
To provide conducive environment for the pursuit of high quality postgraduate studies with the goal of generating and expanding new knowledge as well as enriching the quality of life and experiences of its students.
Objective
The School aims at providing highly specialized knowledge and skills development geared towards meeting high human resource needs of Nigeria in its match towards contributing to a globalized knowledge economy.
Admission Requirements
To qualify for admission into any of the postgraduate programmes of the University, a candidate must meet, among others, all matriculation requirements of at least five (5) credit passes including English Language and Mathematics. Some programmes accept at least a pass in Mathematics.
For Postgraduate Diploma Programmes, Candidates must possess either a minimum of pass Bachelors Degree in any discipline from a University recognised by the Senate of the NOUN OR a Higher National Diploma with a minimum of Lower Credit. For the Postgraduate Diploma in Legislative Drafting, the candidate must have been called to the Bar. Also for admission into the school of Business and Human Resource Management Postgraduate Diploma programmes,
For Master degree programmes, candidates must possess either a Bachelors Degree with a minimum of second class lower in the relevant field of study from a University recongnised by the Senate of the NOUN. However, holders of lower classificationOR a Postgraduate Diploma in related field of study from a recongnised University.
For the Doctor of Philosophy Degree prorammes, candidates must possess a masters degree in relevant field of study from a University recongised by the Senate of the NOUN with a minimum score average of not less than 60% or a cumulative Grade Point Average (CGPA) of 4.0 on a 5-point scale. Studying with us gives a rewarding experience as we give you all the support you need to succeed. You are welcome.
Admission Process
1. An applicant for postgraduate admission into NOUN is normally expected to have a minimum of a first degree ( second class lower) for masters or HND for PGD in a related field in addition to 5 O-Level credits including English Language and Mathematics.
2. Additional requirements might apply for some programmes and these can be viewed after selecting the Programme and entry level at the Faculty's admission page.
3. To apply for a programme, select the Faculty, choose the programme so that the View Requirement button is enabled. Clicking this button will reveal the corresponding entry requirement and enable the Apply button on the pre-payment application page.
4. Fill in all the remaining details on the page before submitting.
On successful submission of the pre-payment form, you are redirected to Remita to obtain an RRR invoice which should be used to effect payment for the application form.
5. An applicant who pays online using a payment card will automatically obtain the online form which must be filled before submission.
6. Applicants who pay through a bank branch must click on Continue after payment… and enter their Unique ID and RRR. They are also given the opportunity to change the Programme applied for.
7.Applicants who had paid using an RRR generated last semester or earlier must restart the application process upto the point when they are re-directed to remita. They should now use the newly generated UniqueID with the old RRR used for payment when they click Proceed after payment.
8. In all cases a successful payment will lead to the generation of an online application form which should be filled before submission online. The admission process is automated and the outcome is virtually instantaneous!
9. Please print your form and admission letter and bring them to your chosen Study Centre for verification by an Admin Officer.